Central Pattaya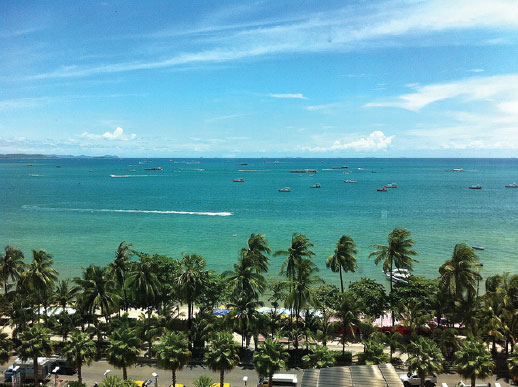 Pattaya Klang - Central Pattaya
Situated between North and South Pattaya, as the name indicates, Central Pattaya extends from beach road soi 7 all the way down to walking street where it connects to Pattaya Tai Road (south Pattaya road). Since many years, this area is popular amongst many western tourists and offers an excess of beer bars and a mix of high-end hotels, some nice condominiums, cheap guesthouses and hundreds of massage parlours. The Central Festival shopping mall on beach road soi 9 is Thailand's largest beach front shopping mall and has, since it's opening in 2009, changed Pattaya's skyline for good with a 7 story shopping area and the world-renowned Hilton hotel on top. It stretches all the way between beach road and second road, which runs parallel to beach road on the back-side of the mall, and houses over 200 retail stores, a bowling venue, dozens of restaurants and a nice cinema. Right next to Central Festival is the main Pattaya police station and a bit further down beach road there are 2 more shopping malls: Mike shopping mall, which has fallen out of favor due to lack of modernization and now houses a sort of indoor market instead of retail stores, and Royal Garden Plaza, which is a medium sized mall housing Ripleys believe it or not and some other attractions. As Pattaya Klang is very popular for its countless shopping opportunities, there's also a Big C extra right on Pattaya Klang road and The Avenue shopping mall on second road with even more shops and a cinema.
A little further inland from second road is soi buakow, a popular and busy street with a high density of beer bars and guest houses. This area has undergone a huge change over the last decades from being a little back dirt road to becoming one of the busiest areas of the city running all the way from Pattaya Klang to Pattaya Tai (South). At the center of soi buakow is soi LK metro which offers some agogo bars and soi Diana, with more beer bars leading to second road and the back entrance of Central Festival. Soi Buakow has a vibrant night-life scene but doesn't go on all night like Walking Street does and usually starts getting more peaceful around 3 A.M.
Although a fun place to hang out at any given day, we wouldn't want to be in the middle of it 24/7. Our nearest condos are a few minutes to 20 minutes from here, which makes your stay much more enjoyable unless you don't appreciate a good nights' rest of course. There are a few decent condominiums without too much noise to be found on beach road, but since this is on one of the most expensive pieces of land, the prices for these condos are sometimes double the price of those found a little further south. My Pattaya Place therefor always suggests to have a look at our condos in Naklua, Pratumnak or Jomtien.