Naklua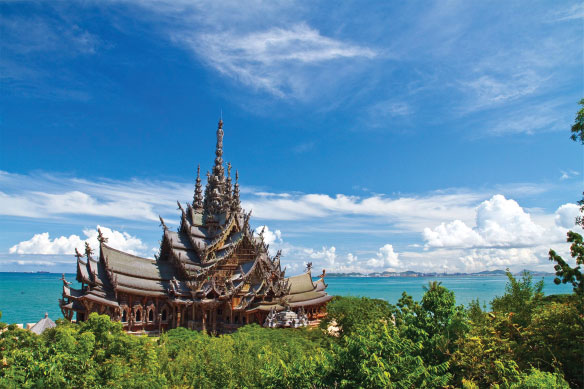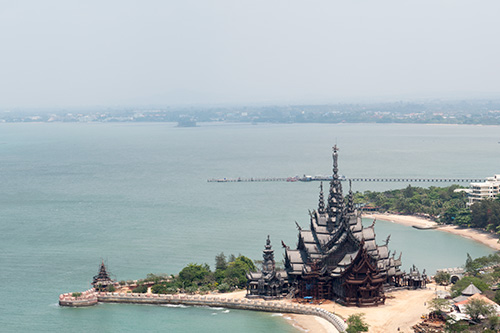 The name Naklua derives from the Thai words for "salt fields" as the area was mainly used for salt-farming before tourism started to attract more and more people to the area. The main area runs from North Pattaya Road north for roughly 2,5 Km but stretches another 2Km into Bang Lamung where fishermen still live in little wooden houses at the ocean shore. Further, Naklua is divided by naklua road which separates the evenly numbered streets on the west-side from the unevenly numbered ones on the east-side that stretches to Sukhumvit road. The western area is popular amongst tourists and expats and boasts several luxury high-rise condominiums and prestigious hotels. Some provide private beach-access as there are roughly 8 bays along the shore. The main strip along the beach stretches for roughly 2,5Km and is called Wong Amat. Although it's the biggest beach in Naklua, it's quite similar to the other smaller beaches here. At one of the northern bays coming from naklua soi 12, one of the most popular tourist attractions can be found known as the Sanctuary of Truth; an all wooden, hand-carved temple structure rising 105 meters in the air and a unique landmark surrounded by a great stone wall and trees. Naklua is growing rapidly because of it's popular location, easy access routes and beautiful beaches. It is therefor in demand amongst both Thai and foreigners. There is still plenty of green and some forestation left around the area, even though Naklua road was the built road when the city started to take form in the 50's and 60's. Compared to the other sea-side areas in Pattaya, there are relatively few beer bars and no gogo bars as can be found between north and south Pattaya. At night, the area is relatively quiet which makes Naklua a peaceful retreat.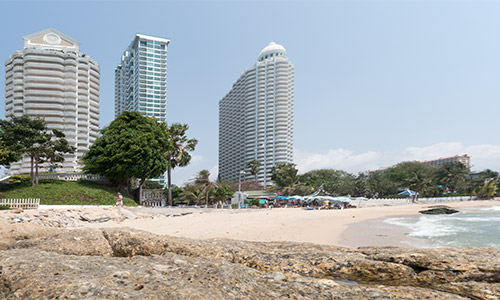 In recent years, property development has been continuously growing across Pattaya city, and Naklua is no exception. Where most developments in Pattaya are relatively low-rise and modest, Naklua houses some of the cities most prominent buildings located either sea-front or within a stone's throw of the beach. My Pattaya Place also has condo's for sale and rent in the Wong Amat area of Naklua which have either just been completed or are due to be completed in 2015. W-Tower is one of those developments that has just been completed in 2015 and features beautiful views in all directions, a roof top swimming pool and lounge area, a panorama gym, sauna, library and leisure hall. We currently have 4 units for sale of which 2 studios and 2 2-bedroom apartments with private elevators at seaside positioning. In the panorama picture of Wong Amat above, W-Tower is the high-rise with the swimming pool on the roof top. In the picture on the left, W-Tower is the building in the middle. A small alley provides direct access to a nice, clean and relaxed beach right at the doorstep. And even though there's many tourists in this area, the size of the beaches in Wong Amat are big enough to ensure it never looks crowded. Compared to the beach in central Pattaya, the ones in Wong Amat are of a much more natural and relaxed nature. Not anywhere near as many hawkers to disrupt you and plenty of space to lie down your towel. On top of that, Wong Amat features some of the best sea food restaurants in Pattaya.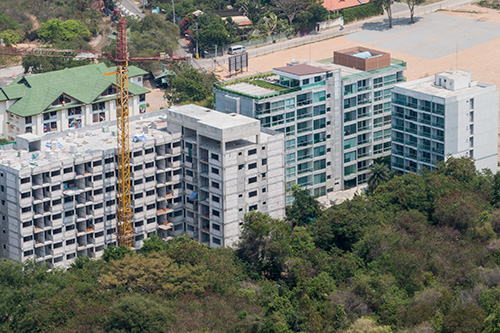 Another building which is to be completed early in 2015 is Club Royal, which is located near the end of naklua soi 12 and across the road from The Sanctuary which is the temple-like structure on the top picture of this page. The units we currently offer for rent and sale are all located in building B, which was already completed in 2013, and are fully furnished and ready to move in for short or long term. At the moment, only building C and D are still under construction but should be finished before half of the year has passed. Club Royal is located in a very quiet and peaceful area, at only 250 meters from the beach, Centara Grand Modus hotel and The Sanctuary condominium. My Pattaya Place offers studios, 1- and 2-bedroom condos for rent and sale at various sizes and prices. Club Royal features a large secluded swimming pool and leisure area, a roof top gym and sun-deck, hotel style lobby and manicured gardens. The condos are modernly decorated with contrasting colors and quality furniture. All in all, Naklua is a very pleasant area to reside for those who wish to live near the ocean, but don't care much for Pattaya's night-life and entertainment venues. While still within reach, a trip down to south Pattaya, where most of the night-life is concentrated, takes approximately 25 minutes, depending on the time of day.