About Pattaya
Living in Pattaya
Pattaya is located only a hundred kilometers southeast of Bangkok and bordering the north end of the Gulf of Thailand. It is surrounded by the sea, natural landscapes and agricultural farmland. Over the past 20 years, the city has developed rapidly and Pattaya has become a leading location for both manufacturing and service industries in Thailand. It is also widely known as Asia's playground, a city famed for its entertainment options and a leading international tourist destination.
Pattaya history
In the 1960s, Pattaya began to grow as a beachside recreation destination where it once was once a small fishing village. In the decades since, Pattaya has developed into a prime location and is now visited by over six million holidaymakers every year. The city has grown into an international metropolis of over 1.5 million people from all over Thailand and the world. Since the 1960s there have been international residents in Pattaya and the community of foreign residents has grown with the expanding city remaining very much part of its commercial and social fabric.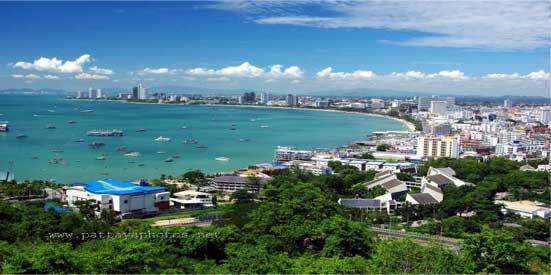 Pattaya now
In recent years Pattaya has evolved into a high-end lifestyle destination, with the development of facilities to cater to the increasingly more refined tastes of both residents and visitors. Modern style, high quality restaurants and shopping centers have been established in convenient locations throughout the city and there have been considerable advances in the city infrastructure. Today Pattaya is a thriving modern metropolis with reliable electric supply, clean water supply a modern communications network and an ever improving transport system.
Geographical location
Pattaya is easy to reach from any international destination; it is less than 90 minutes' drive from Bangkok's Suvarnabhumhi airport and its international links to destinations across the globe. The city has many international schools for a high quality education for children and standards of medical care that would find few equals anywhere else in the world. Situated next to the sea, it is possible to enjoy a great beach lifestyle and there is no shortage of things to do whatever your interest. Lovers of sports, culture, music and shopping are all well catered.
Although Pattaya can officially be split up into more than 6 areas, generally speaking the following 6 areas from north to south are well known with everyone:
Naklua (and Wong Amat)
Neua (North)
Klang (Central)
Tai (South)
Pratumnak

Pratumnak and Pratumnak hill
Golfers' paradise
Thailand has had a long love affair with golf, and golf in Pattaya has a passionate following. The country offers countless beautiful lush courses - many designed by top names such as Jack Nicklaus, Nick Faldo, Peter Thompson and others of similar stature - and hosts some of Asia's most important tournaments, the Johnnie Walker Classic and the Honda LPGA Tournaments & championship. There are many international standard golf courses in and around Pattaya, however, you won't find the same range of first class facilities that can be found here.

Golf in Pattaya is catered to by 21 golf courses within an hour's drive of the city and with 15 of them being championship class. The courses are rarely crowded and there is no need to book weeks ahead. Pattaya is truly one of the most golfer friendly locations on the planet.
Pattaya weather
The weather permits year-round play and the service at the courses is among the best in the world - and probably the best value for money anywhere.

Caddy services
Caddy service is pretty much obligatory, with well-trained (and usually female) caddies who know the course well enough to help you bring down your score by a few strokes. Most courses have refreshment bars every three holes or so, where you can have a drink and a snack and take your time - Thai-style.
Useful links
These links to Pattaya golf websites can provide a wealth of information on the game locally.
Other attractions
Having been known as one of the biggest leisure and entertainment areas, Pattaya has a number of interesting attractions beyond its natural attractions and nightlife. Pattaya has offered visitors the wonders of man-made attractions displaying the cultures, traditions and lifestyle such as museums, parks, amusement parks, zoos, theatres, temples and many more. To give you a good idea of what Pattaya has to offer, we have created the list below to get you going in the right direction.
Things to do in and around Pattaya